United States Medals
---
World War II Victory Medal,
the back reads
"FREEDOM FROM FEAR AND WANT FREEDOM OF SPEECH AND RELIGION 1941 – 1945"

American Campaign
Asiatic Pacific Campaign




European African Middle Eastern Campaign

Army Good Conduct,
which reads
"EFFICIENCY-HONOR-FIDELITY"
the back reads
"For Good Conduct"

Navy Good Conduct,
which reads
"UNITED STATES NAVY"
and shows the ship Constitution. The back reads
"FIDELITY-ZEAL-OBEDIENCE"

---

Campaign or theater ribbons were awarded with battle stars for campaigns served.
Mulitiple award of the same medal was signified via an oak leaf as seen on ribbons.

---

Expert Infantry Badge

Combat Infantry Badge
---
Air Medal
Distinguished Flying Cross
Purple Heart
which reads
"For MILITARY MERIT"
Presidential Unit Citation
The discharge pin. Commonly known as the ruptured duck. The discharge symbol also come in a diamond shaped cloth version, which was sewn on the uniform.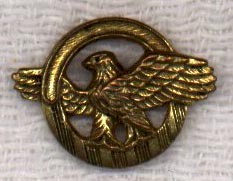 ---
Qualification or rating badges, a list of specific weapons in which the wearer was qualified were linked below the rating. The number of weapons possible was quite high.
The ratings from left to right:
MARKSMAN
SHARPSHOOTER
EXPERT
---


| Return to Home |

---

Copyright © 1999-2000 WW-II Heroes. All rights reserved.
Information in this document is subject to change without notice.