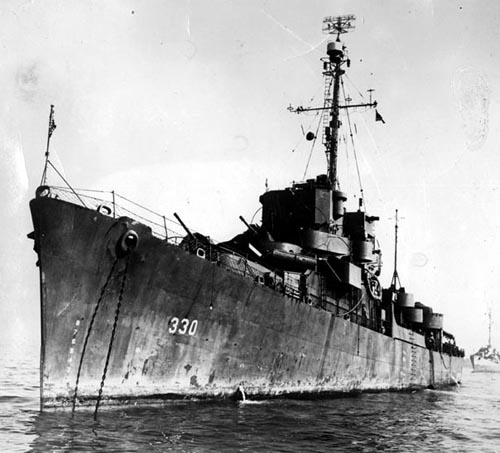 <![if !supportEmptyParas]> <![endif]>
USS O'Reilly DE 330
The O'Reilly was named after Lt. Edward J. O'Reilly of Chicago. Lt. O'Reilly was aboard the Astoria (CA-34) when she went down in the Eastern Solomons on August 9, 1942. The O'Reilly was officially commissioned on December 28, 1943.
The O'Reilly was an Edsall Class DE based on its 4 Fairbanks-Morse diesel engines. In 1943, a Destroyer Escort cost the taxpayer about $6,000,000 each (although estimates and figures do vary depending on your source). 85, Edsall Class DE's were completed during the war, in comparison to 504 DE's of all classes constructed, many sent to England.
U.S.S O'Reilly DE-330 Specs:
Weapons & Systems
Crew Accommodations

Crew: 200 +/-
Engines: 4 Fairbanks-Morse diesels
Beam: 36'-7"
Hull Length: 306 feet
Displacement: 1,590 tons
Draft: 12'-3"
Speed: 21 knots
Fuel Capacity: 279 tons
Fuel Type #6 diesel oil
Range: 9,000 Nautical Miles
Twin screws (propellers) and rudders

Range Finder (sonar)
Directional Control: Mk51
3: 3"-50 dual purpose guns two fore and one aft
Hedgehog: forward throwing depth charge
8 K-guns(Depth Charge Launchers)
1: twin mount 40mm gun
10: 20mm guns
Triple mount 21-inch torpedo tubes

Crew cabins with triple bunks
Showers
Mess hall
Laundry
On-board films
Drinking fountains
(referred to as scuttle butts)
Ice Cream maker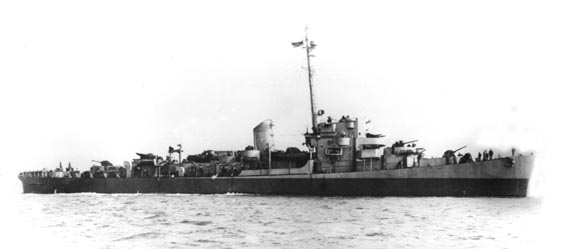 ---
Destroyer Escorts
The Destroyer Escort was designed for use by the British to protect shipping in the Atlantic from German submarines. Many of the ships systems reflect the British Navy's design. The DE was an escort ship, but was designed to be a submarine killer, which is reflected in its type of weapons. While the DE had the capacity to fire anti-aircraft rounds it was not well armed for defense from aerial attack. While not as heavily armed as a destroyer, the DE had superb maneuverability.
The Destroyer Escort developed 6 classes by the end of the war. Ship class was largely due to engine type or weapons systems differences.
Destroyer Escort Classes:
Evarts – GMT, General Motors diesel-electric tandem drive
Buckley – TE, Turboelectric drive
Cannon – DET, Diesel-electric tandem drive
Edsall – FMR, Fairbanks-Morse diesel reduction gear drive
Rudderow – TEV, Turboelectric drive with 5" guns
John C. Butler – WGT, Westinghouse geared turbine drive
Some notable DE's: The USS England, DE 635. In May 1944, the England sank 5 submarines in 12 days and the crew was awarded the Presidential Unit Citation, a feat not outdone by any other WW-II ship. Sadly, the England was struck by a kamikaze in July '45, 37 crewmen were killed, 25 injured. The USS Buckley, DE 51. The Buckley engaged a surfaced U-boat, U-66, and eventually rammed the sub. While entangled, the men of the Kriegsmarine swarmed out of their sub with small arms and attacked the crew of the Buckley. The crew fought back and drove the German sailors off.
While the DE's were intended to battle with submarines a small group of DE's and Destroyers DD's (Taffy-3) tangled with Japanese battleships and cruisers in the Battle of Leyte Gulf. As the landing beaches and small carriers only defense the small ships traded blows with ships many times their size. 14-inch shells from the battleships would punch holes through the little DE's and not explode. The DE's battled back with every five-inch shell they had.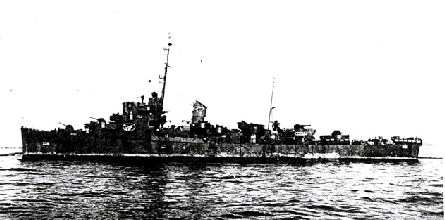 ---
The O'Reilly first escorted a convoy from Venezuela to North Africa and the ports in Oran and Algiers in March 1944. After two more similar voyages and one from New York, the O'Reilly was in for repairs during September.
Off again on convoy duty September 20th for England (this corresponds with the departure of the 84th Division for Europe). On its second crossing the O'Reilly encountered a German U-boat (submarine). After a brief engagement the men of the Kreigsmarine slipped away with unknown results. As a historical note, the O'Reilly never lost a ship under its protection during convoy duty.
Recommended reading for the Destroyer Escort enthusiast:
The Buckley-Class Destroyer Escorts by Bruce H. Franklin
Little Ship, Big War, The Saga of DE 343 by Edward P. Stafford
---
| WW-II Heroes |

---
Copyright © 1999-2000 WW-II Heroes. All rights reserved.
Information in this document is subject to change without notice.