Stalag II-A was located in eastern Germany in Neubrandenburg, north of Berlin. It housed many nationalities although separately. By December 1944, the numbers of POW's was overwhelming the Germans. Crowded conditions, inadequate rations, medical supplies, and sanitary facilities were all intensified by a nation crumbling under the pressure of the war. The Germans could scarcely take care of their own men never mind captured enemy soldiers. In February Stalag II-A held 3,175 POW's, well in excess of its capacity. <![if !supportEmptyParas]> <![endif]>
The POW's endured fingerprinting and mug shots as part of the identification and record keeping. The good side was, at last official word would reach relatives that they were alive, albeit POW's.
---
One event widely recalled, was at Christmas the Germans allowed the various nationalities to mingle together in a joint celebration. My father recalled extra rations and entertainment from the Russians. Vince Loguidice noted the Italians sang for them.
While mail was sent both from the states and from Germany, none ever arrived. POW Mail or Kriegsgefangenenpost arrived only after the war was over.
<![if !supportEmptyParas]> <![endif]>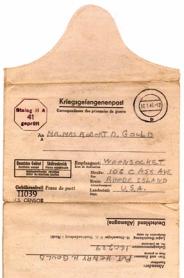 A variety of Kriegsgefangenenpost stationary was used, both from the U.S. and from behind the wire. Many uniquely folded into their own mailing envelopes.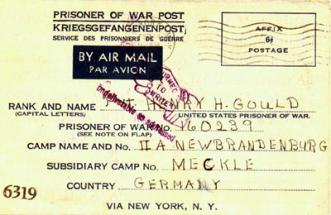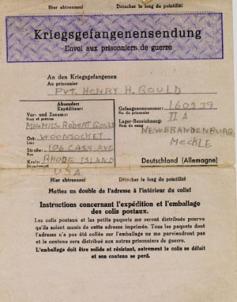 ---
Teterow Kommando
Stalag II A had approximately 50 various work camps "Arbeits Kommando". Teterow was one of the largest with 165 POW's. The men were assigned various work groups working the railroads, forestry or farms. The rail section often traveled quite a ways to repair bombed rail lines. My father arrived in Teterow January 17, 1945.
The lodging for the POW's was called the "Schutezenhaus", German for protection house or shelter, was a multi story building which housed the POW's. The German Guards were housed in an attached structure.
The POW's ate a very limited diet, mostly potatoes, rudabeggers(rutabagas) and black bread. Red Cross parcels were rationed out piecemeal and canned items were punctured to eliminate the potential of food being hoarded. My father told a story of a fellow POW who in fact had the prize possession of an unpunctured can. The fellow guarded it day and night. Those who worked the rail lines had occasion to find food stuffs in boxcars and liberate it, an occurrence that my father believed kept him alive.
Vince Loguidice recalled one old guard they called "binky" he would hand his rifle to the POW's to help pull him up onto the rail car.
Greg Tarpinian retold a story of his clash with a German Guard. As the Kriegies marched along the roadside to another work detail Greg lagged behind.