JOHN ELLSWORTH ASMUSSEN

---

John Ellsworth Asmussen was born in Uxbridge, Massachusetts in 1919. In 1938, he graduated from Woonsocket High School in Rhode Island. Following the involvement of the U.S in the war Uncle John joined the Army Air Corps and trained to be a pilot (August 27, 1942). He went to Army Air Force Instruction School in Bryan, Texas, Army Air Force Flight School in Roswell, New Mexico, California Aero Academy in Ontario, California and Officer Training Corps at Williams Field in Arizona. After much extensive training he graduated and earned his wings as a second lieutenant.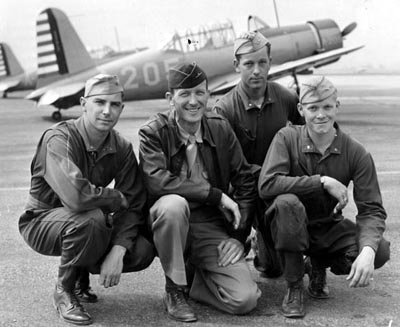 April, 1942, in flight training with instructor H.G. Schneider (center) and classmates
Roger C. Cochran of Oregon (left), Marvin B. Dickey of Kentucky (in back). The
plane behind them is a BT-13 the "Vultee Vibrator".
It was said pilot wings were a girl magnet and before long Uncle John was engaged to Marion A. Fanning.


---

He completed his training with the 8th Air Force, 390th Bombardment Group, 569th Squadron. Before he went overseas, John and Marion were married in Seattle, Washington. The 390th Bomb Group arrived in Framlingham, England in mid 1943 and began what would be over three hundred missions.

<![if !supportEmptyParas]> <![endif]>




---

PART II COMBAT MISSIONS

The 390th's first mission August 12, 1943, was to Bonn, Germany which Uncle John and his crew flew on. The flight of aircraft 23327 "Tet T Mote " would be one of 14 the plane would make.

On October 14, 1943, the 390th Bomb Group flew to Schweinfurt, Germany with the 13th Air Wing. The mission to Schweinfurt would become one of the most infamous missions of the Eighth Air Force along with Regensburg and Munster. The Schweinfurt mission's objective was to destroy a major ball bearing manufacturing facility. Of 291 aircraft only 228 reached the target. 60 B-17's were lost. While the 8th suffered heavy losses the Luftwaffe's was worse; 186 planes destroyed, 89 others hit. The devastation to the VKF Werke was massive. The 390th Bombardment Group would earn a Presidential Unit Citation for their outstanding performance in the Schweinfurt mission. Flyers still debate today, which was worse, the enemy fighters or the flak as thick as pea soup.

The Tet T Mote crew after the Schweinfurt mission (note mission count in bombs).

The Schweinfurt mission would be John Asmussen's last with the beloved Tet T Mote'. On October 21, 1943, while flown by another crew the plane crash-landed and was rendered non repairable and salvaged for parts.

Uncle John flew 15 missions with the 390th. In addition to "Tet" he flew Shatzi and Rick O Shay. As an indication of the hazards involved, Uncle John flew Shatzi on September 15, 1943. On October 20th enemy fire split the plane in half, and it crashed in Hergonbosch. Two crewmembers were killed, one escaped, and all the rest were captured. He flew Rick O Shay on October 9, 1943. On October 10th Shatzi ditched in the North Atlantic and all on board were captured.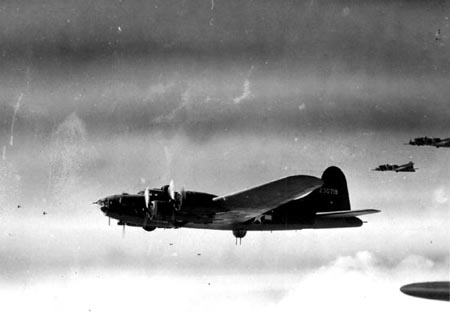 Aricraft 230719 "Shatzi"
Uncle John went on to fly pathfinders, B-17's fitted with radar units which could help aid in navigation and target location through cloud cover. Uncle John left England and the ETO in May of 1944, after 10 months of flying combat missions. He was discharged December 7, 1945 at Westover Field in Massachusetts, the 4th anniversary of the US's entrance into the Second World War.

---

<![if !supportEmptyParas]> <![endif]>

Uncle John's ribbons:


Top row, Distinguished Flying Cross with Oak Leaf Cluster. Air Medal with three Oak Leaf Clusters.

Bottom row, American Campaign, European Campaign with battle star, and WWII Victory ribbon. Also show are captain's bars and officers uniform Army Air Corps insignia.

LINKS:
390thMemorial Museum Web Site
Bob's B-17 Page
Luftwaffe Page


Reading: A Wing and a Prayer by Harry Crosby

US MEDALS


---

John Ellsworth Asmussen
| Home |

---

Copyright © 1999-2001 WW-II Heroes. All rights reserved.
Information in this document is subject to change without notice.